Hi guys! This post doesn't really have anything to do with illustration or screenwriting or anything I normally post about, just a quick hack I figured out that for some reason I couldn't find anywhere else on the online and discovered purely by accident. And that is how to make something glow under blacklight.
The reason I was trying to figure this out is because for Halloween this year I created a spooky ghost decoration for my back patio. I had hand painted a scary face onto one of those foam wig-heads and draped some fabric over the head to create a ghost. And I lit this ghost with a blacklight. Unfortunately, only the fabric glowed under the blacklight, not the face.
So I set about searching on the internet to try to find a hack to make DIY glow in the dark paint so that the face would glow too. And all I could find was a bunch of tutorials saying I needed to get some flourescent powder to mix into my paint. Which I obviously didn't have.
Getting frustrated, I finally googled "why doesn't my white paint glow under blacklight?" And through that search I stumbled upon a face-painting forum where a mom asked why her kid's white face paint doesn't glow but her white clothes do. 
In that thread, one specific commenter said the reason that her kids clothes glowed was because of... the laundry detergent.
Oh really?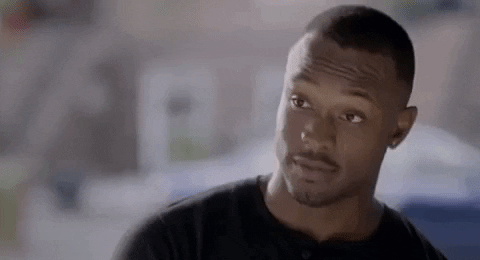 So I decided to try an experiment. I took some of my laundry detergent:
Thankfully it is colorless. I poured a little out and took it outside to the blacklight. Lo and behold, this stuff lit up like a Christmas tree.
Well well well. Would you look at that!
So I grabbed a paint brush and began applying my detergent directly onto the ghost's face, keeping it only to the white parts.
And look at that face!
What a huge difference this made! The face of my ghost was actually glowing, and kept glowing even after the detergent had dried. It definitely made my ghost look a heck of a lot creepier at night, hovering over my patio and glowing with her dead eyes.
She looked especially creepy when the wind blew, making her sway just a little bit. I was quite proud of how this turned out, and I'm really glad that I discovered this little hack. I don't know why I couldn't find this information more easily through Google, but that's why I'm sharing it now.
I do want to note that the the glow would only last for a few days, and then I'd have to reapply it, but I'm not entirely sure that wasn't just because the foam of the head was slowly absorbing the detergent or because it was just wearing off. In either case, it wasn't a big deal and it really made a difference on the appearance of my haunted patio.
Also, the "Ravens Hill Manor" sign is a subtle reference to my ghost story Nethergate. The town that the story takes place in is called Ravens Hill. Bwahahaha!
Anyway, TL;DR - Laundry detergent makes things glow under blacklight. 
Please reload